Refinish Hardwood Flooring in Milford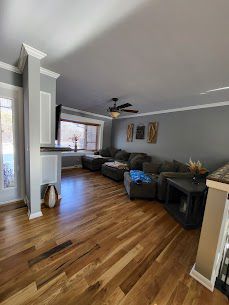 Hardwood floors can generate tremendous value to your home. If you already have a hardwood floor installed in your home the best way to keep it's value up is to have it refinished. Old worn out hardwood floors can look new again with just a simple sand, stain and finish procedure.
Prefinished Hardwood Flooring Installation in Brighton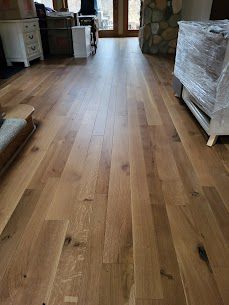 Here we have a home in Brighton that wanted a new hardwood floor installed. This particular floor is a solid 3/4" white oak hardwood floor with random width planking. This hardwood floor has a micro bevel edge with a straight edge on the ends. It's also prefinished with titanium infused into the finish itself.
Read more: Prefinished Hardwood Flooring Installation in Brighton
Fuzed White Oak Hardwood Flooring Installation in Fowlerville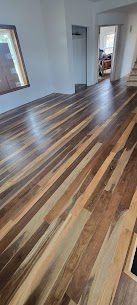 Now here was a hardwood flooring job that we really liked. They chose a very unique hardwood floor. This was a fuzed white oak hardwood floor that we nailed down and site finished. The grains and varying shades within the hardwood flooring really stood out once it was installed and finished.
Read more: Fuzed White Oak Hardwood Flooring Installation in Fowlerville