Hardwood Floor Refinishing Livonia
Hardwood flooring is a valuable asset in any home. Homes with hardwood flooring have a higher resale value than homes without hardwood flooring (everything else being equal). But hardwood flooring needs periodic maintenance to keep them looking great and retaining their value going forward. We can help in this regard. Boardwalk Floors is a family owned business that refinishes hardwood flooring. We have over 25 years of experience in the hardwood floor refinishing business. Homes located in Livonia MI are older homes that now require some updating and maintenance to maintain their highest value. Refinishing hardwood floors is not an easy job but we can perform this essential service with minimal disturbance to your lifestyle.
Boardwalk Floors refinishes hardwood in the Livonia MI area and surrounding areas. Our services extend to a large geographic area in southwest Michigan. With some of the homes in Livonia being smaller on average than other cities the price to refinish hardwood will also be less pricey. You would be surprised at how cost effective hardwood floor refinishing in Livonia can be!
Hardwood Floor Installation Livonia
Boardwalk Floors offers many services pertaining to the hardwood flooring industry including hardwood floor installation and repair. Hardwood floor installation and hardwood floor refinishing go hand in hand. If you would like to add a hardwood floor in your living room and want to match the hardwood floor you already have in the kitchen and foyer, then Boardwalk Floors is the company for you! We can remove your old flooring in the living room and install unfinished hardwood. Then, depending upon the individual job itself, we can stain and finish the hardwood to match the existing. The best match is normally achieved when we also sand down and refinish the old hardwood flooring so that it matches exactly (some differences can be seen making allowances for different ages of the wood).
Boardwalk Floors can install unfinished or prefinished hardwood flooring. We also have the capability of floor repair if needed. We are a full service hardwood floor installation company than now serves Livonia MI. Call today for your own personal in home consultation.
Hardwood Floor Refinishing Project in Livonia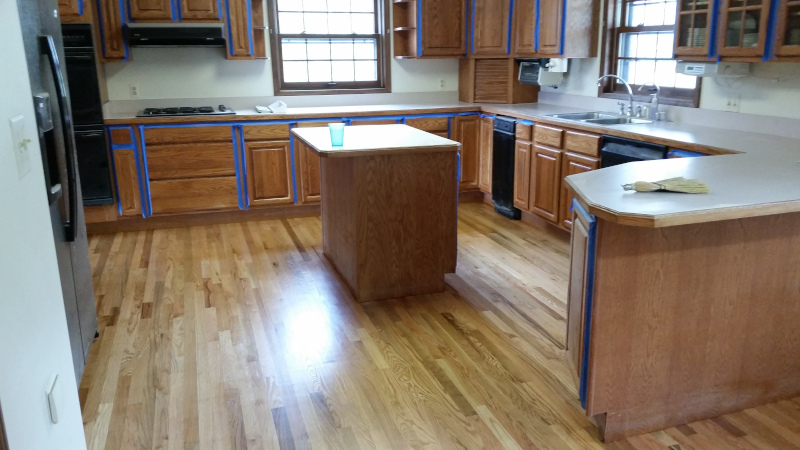 This is one of many hardwood flooring installation and refinishing jobs that we've completed in Livonia MI. This was a job that the customer had their kitchen remodeled with new cabinets, countertops, appliances and new hardwood flooring. We can work with your contractor to install new hardwood flooring in your remodeled area. This particular wood flooring job in Livonia required unfinished hardwood flooring to be installed then site finished with a high quality wood floor finish. You can update your home in Livonia MI with new hardwood flooring or refinishing your older existing hardwood flooring. Boardwalk Floors services the Livonia area so call for your in home estimate today!
Call Today! 248-854-2027