Hardwood Floor Refinishing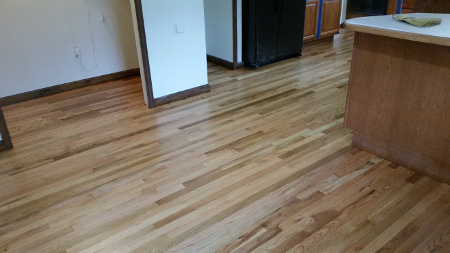 Boardwalk Floors excels in hardwood floor refinishing! We are a family owned and operated business with over 25 years of experience in the wood floor refinishing business. Refinishing hardwood floors can be a hard and messy job. We know that your home is very important to you so we take the utmost care to provide quality workmanship, a clean working environment and timely service. We will clean up after ourselves and aim for total customer satisfaction. Nothing adds more beauty to a home than a newly refinished hardwood floor.
Refinishing Hardwood Floors
Boardwalk Floors uses only the best floor finishes available for a high quality wood floor refinishing job every time. Whether we are finishing a new unfinished hardwood floor or an existing hardwood floor, we promise that your floor will look beautiful when we're done. Boardwalk Floors can apply many different stain colors to the hardwood floor or we can clear coat the floor and let the natural color and beauty of the floor stand out! Custom colors can be achieved by mixing standard colors together for that perfect color match for your personal tastes. Either way your newly refinished hardwood floor will look beautiful for years to come.
Floor Refinishing
Any good floor refinishing job always starts with good thorough prep. Sanding down the existing hardwood floor or newly installed unfinished hardwood is a very important component to a quality hardwood floor finishing job. With our years of experience in the floor refinishing field, we have the expertise to do the job right. Our customers can attest to that! Call Boardwalk Floors today! You will be glad you did!
Call Boardwalk Floors today for your wood floor refinishing needs! 248-854-2027