Hardwood Floor Installation
Written by:

Christine
Hardwood Floor Installation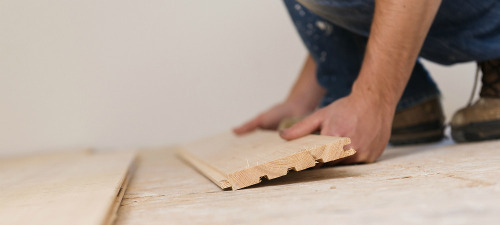 Boardwalk Floors specializes in installing hardwood floors. Whether you would like a prefinished hardwood floor installed or an unfinished hardwood floor, Boardwalk Floors can do the job quickly, efficiently and for a great price. With over 25 years of experience in the wood floor installation business, Boardwalk Floors promises to provide top notch quality every time. Our contractors are proven professionals in the hardwood floor installation business!
We can install solid hardwood flooring, engineered hardwood flooring, nail down, glue down or click together. Boardwalk Floors can also install laminate flooring.
Wood Floor Installation
Wood floor installation can be done on grade, above grade and even below grade. Cement floors below grade will normally require engineered type hardwood floors. Engineered hardwood flooring can withstand changes in humidity more so than solid hardwood flooring. Also solid hardwood flooring mostly needs to be nailed down which is impossible on a concrete floor. Engineered hardwood flooring installation can be achieved with a glue down installation method or a click together wood floor installation method.
Flooring Installation
There are a lot of flooring choices out there these days but nothing provides the warmth, beauty and value that a new hardwood floor provides. Installing wood floors is our core profession along with hardwood floor refinishing. Once we've installed a new unfinished hardwood floor, Boardwalk floors can sand down, stain and finish the new floor. So whether you would like a prefinished hardwood floor or a site finished hardwood floor, Boardwalk Floors has you covered. Add the beauty of hardwood flooring today! Call Boardwalk Floors!
Call Boardwalk Floors today for your hardwood floor installation needs! 248-854-2027