Concrete Resurfacing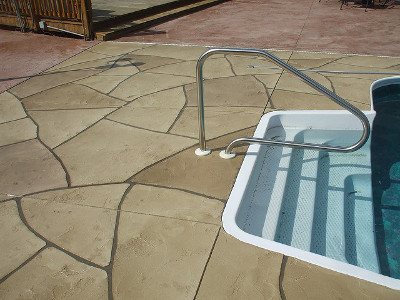 Concrete flooring and surfaces are an extremely durable product! They will wear and last almost forever. But as concrete ages and when it's exposed to the outside elements, concrete can start to erode, pit and look downright ugly. Boardwalk Floors has the expertise to re-vitalize concrete surfaces. Whether it's a driveway, patio, pool deck, garage or basement floor, Boardwalk Floors can make it really shine! Our decorative concrete products can really spruce up the look of your old or new concrete.
Decorative Concrete
Decorative concrete is a revolutionary product and concrete resurfacing system that can transform your existing, drab looking concrete surfaces into a great looking space. There are a multitude of colors, styles and sheen levels to choose from. Concrete can be resurfaced to look like wood, stone, granite and more! Boardwalk Floors has many satisfied customers that just rave about their new cement flooring look.
Concrete Driveway Resurfacing and Concrete Finishing
Cement driveways can become cracked, pitted and otherwise just worn down and away. As driveways age they can really start to look old and worn. Give your home a fresh new look with decorative concrete resurfacing. Our concrete finishing products can revitalize your existing driveways and protect them from further wear and erosion. Plus you will enhance your curbside appeal with some of our very stylish decorative concrete visuals!
Driveway Sealer
Another benefit of decorative concrete is the sealing attributes of the product itself. Patios, garage floors, driveways, basements and other concrete surfaces can in time start to crack, pit and need repair. Boardwalk Floors can come out to your home or business and seal your driveway or other cement surfaces.
Polished Concrete
Polishing concrete is fast becoming a very popular alternative to marble flooring, granite, tile or vinyl flooring. Concrete floors can be ground to a fine finish from a satin to high gloss depending upon your preferences. Beautiful looks and extreme durability is making polished concrete flooring a preferred flooring type. You can achieve a polished stone look when you combine the techniques of staining concrete with polishing the concrete. Polished concrete flooring in great for commercial applications along with residential.
Epoxy Flooring, Epoxy Floor Coating, Epoxy Basement Floor
Epoxy Flooring is a very durable coating that can be applied to most concrete substrates. Not only are they durable but they look great too. Long lasting and stain resistant, these epoxy floor coating products will really protect and beautify your concrete floors. Basement floors, garage floors, cement steps and porches are just a few places where epoxy flooring can really add a fantastic look. Epoxy flooring has much better adhesion and durability than standard floor paint. There really is no comparison. Plus epoxy floor coatings can provide and extremely durable and high sheen finish to your concrete flooring. Let us show you the possibilities. Call today!
Garage Floor Coating
Garage flooring really takes a pounding. Parked cars will drop snow, salt, oil and other contaminants onto your cement garage floor causing staining and deterioration. Boardwalk Floors can come out to your home and show you all the possibilities of garage floor sealing. We can seal your garage floor with our stylish garage floor coating. These coatings will beautify your garage floor along with sealing the cement for superior protection. Your garage floor needn't look old, worn and stained when you can have a beautiful garage floor with our quality garage floor coatings
Pool Deck Resurfacing
Pool decks can be beautified with Boardwalk Floor's concrete resurfacing products. Concrete pool decks are a place where kids play and grown ups entertain. Give your pool deck area an upgrade with our high grade concrete resurfacing products. You can have a wood look applied to your pool deck or a stone, granite or tile look! These are beautiful styles and patterns that will make your pool deck area into an outside show place. A place where you would be proud to spend time with your friends and relatives.
Decorative Concrete Contractors
Boardwalk Floors is a high quality concrete resurfacing and decorative concrete contractor! We only use high quality concrete finishing products and our work is guaranteed. See our testimonials to see what our customers are saying about us. We aim to please so give us a call for any and all concrete resurfacing and decorative concrete needs you may have.
Call Boardwalk Floors today and let us show you all the possibilities for your cement areas! 248-854-2027