Hardwood Floor Refinishing Highland
Written by:

Christine
Hardwood Floor Refinishing Highland
Boardwalk Floors refinishes hardwood flooring and installs hardwood flooring in the Highland area and surrounding areas. Whereas a hardwood floor installation can have it's own challenges in the community of Highland, the hardwood floor refinishing is pretty straight forward. Old hardwood flooring of course can have more issues than refinishing newer hardwood flooring but Boardwalk Floors has the high quality, experienced hardwood floor professionals that will do the job right. We have worked in the Highland area for years now and know the nuances of the conditions we may find there. No guessing, we know what it takes to refinish hardwood flooring in Highland MI.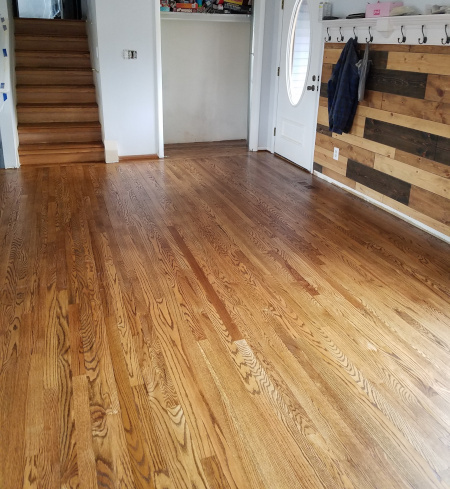 Boardwalk Floors can take your old, worn out hardwood flooring and make them look new again. We only use top notch stains, sealers and finishes. Hardwood flooring is an investment and Boardwalk Floors can bring out the original luster of your existing hardwood flooring. Whether we refinish your existing hardwood flooring or install new, unfinished hardwood flooring and then finish them, we can have your home in Highland Mi looking great!
Another option is to change the current color of your existing hardwood flooring. You don't have to keep the same color forever. Once the hardwood flooring is sanded down, we can then apply any color stain you would like and finish it with 2 or 3 coats of high quality floor finish. Gloss levels are another thing that can be changed. From low gloss to semi-gloss to high gloss finishes. Boardwalk Floors can work with you on all of these decisions to insure that you've made the correct choice.
Hardwood Floor Installation Highland
Boardwalk Floors specializes in hardwood floor refinishing and hardwood floor installation. Highland MI, in general, has some unique older homes. With very diverse home styles, HIghland can be a challenge when it comes to upgrading the current flooring with new hardwood flooring. In our 25 years of hardwood floor installation experience we've come across homes with all different types of sub flooring. Uneven sub flooring with high and low joists, damaged sub flooring, water damaged sub flooring, sub flooring that is higher in one room than the next room and so on. The homes in Highland need experienced hardwood flooring installation contractors and that's just what Boardwalk Floors has! We've just about seen everything there is to see when it comes to sub floor conditions as related to hardwood floor refinishing and installation. We have the expertise to overcome any troubled areas we may come across in the homes of Highland MI.
Hardwood Floor Refinishing Project in Highland
Here is a brand new hardwood floor installation that we recently finished in Highland MI. This is a 2 1/4" solid oak strip planking hardwood floor. This hardwood flooring required a nail down type of hardwood floor installation. Once it was secured we sanded it down and clear coated it. One coat of sealer and 2 coats of high quality hardwood floor finish. As you can see, this really brings out the natural beauty of this oak hardwood flooring. We can bring out your hardwood's natural beauty too!
Call Today! 248-854-2027